Internet City, Dubai–(Newsfile Corp. – May 30, 2022) – LBank Exchange, a global digital asset trading platform has listed World Pay Coin (WPC) on May 31, 2022. For all users of LBank Exchange, the WPC/USDT trading pair is now officially available for trading.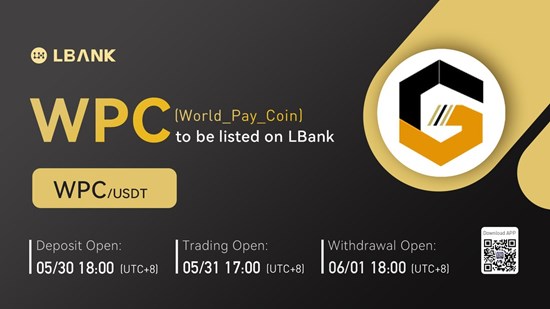 LBank x WPC
To view an enhanced version of this graphic, please visit:
https://orders.newsfilecorp.com/files/8203/125824_2efd15d004269a94_001full.jpg
Combining the payment and blockchain together, World Pay Coin (WPC) creates a new paradigm in the payment system that provides faster payment approval and easy customer management. Its native token WPC has been listed on LBank Exchange at 17:00 (UTC+8) on May 31, 2022, to further expand its global reach and help it achieve its vision.
Introducing World Pay Coin
World Pay Coin (WPC) is a project that provides a new payment method that can be used in various environments without a separate infrastructure. It combines its own know-how and blockchain technology in the payment system, and connects restaurants, shopping malls, hypermarkets, etc. that can be affiliated with the foundation through payment partnerships via the membership franchisee system.
By inheriting WPC's unique payment know-how and merchant pool, it can provide an optimized merchant management system based on payment transactions. Through this, merchants can manage payment information and data by field and customer on the dashboard as well as manage various events such as promotions and coupon issuance, making it easy to attract and manage new customers.
​Furthermore, with WPC it is possible to make payments without overseas payment fees and interest on credit card installments. In addition, uses can withdraw cash at any time from an ATM, and there is no withdrawal fee.
About WPC Token
Based on BPE-20, WPC has a total supply of 2 billion (i.e. 2,000,000,000) tokens, of which 10% is provided for token distribution, 50% is allocated to the foundation, 10% is provided for the buyer, 15% will be used for marketing, and the rest 15% is allocated to the development team.
The WPC token has been listed on LBank Exchange at 17:00 (UTC+8) on May 31, 2022, investors who are interested in the World Pay Coin investment can easily buy and sell WPC token on LBank Exchange right now. The listing of WPC on LBank Exchange will undoubtedly help it further expand its business and draw more attention in the market.
Learn More about WPC Token:
Official Website: https://www.worldpaycoin.org
Telegram: https://t.me/WorldPayCoin_community
About LBank Exchange
LBank Exchange, founded in 2015, is an innovative global trading platform for various crypto assets. LBank Exchange provides its users with safe crypto trading, specialized financial derivatives, and professional asset management services. It has become one of the most popular and trusted crypto trading platforms with over 7 million users from now more than 210 regions around the world.
Start Trading Now: lbank.info
Community & Social Media:
l Telegram
l Twitter
l Facebook
l LinkedIn
l Instagram
l YouTube
Contact Details:
LBK Blockchain Co. Limited
LBank Exchange
marketing@lbank.info
business@lbank.info
Disclaimer: The views, suggestions, and opinions expressed here are the sole responsibility of the experts. No Insure Information journalist was involved in the writing and production of this article.